Tuxedo Brothers Event Management
Entry Information

HOLLIDAY PARK TRAIL RUN, Saturday, March 21, 2015
The field is limited to 600! 

Looking for a different kind of race?  Don't mind getting dirty?
The Holliday Park Trail Run is a 5-mile course where runners and hikers of all ages will scramble, hop, run, jump, ford, climb, walk or crawl along the trails of Holliday Park to Marrott Park and back again.  Participants will be challenged by hills, dales, ravines, swales, gulleys, along the White River and Williams Creek. Participants hunt for special treasueres along the course that may be redeemed for prizes during the post-race celebration.
Plus a one-mile Children's Trail Run for ages 6 -12 that will also feature a treasure hunt and a Tot Trot for those that are 5 and under.
Saturday, March 21, 2015.  Rain, snow, mud or shine.  Runners will begin at 9:30 AM   One-Mile Children's run begins at 10:45 AM, Tot Trot will begin at 10:55 AM.
Holliday Park, 6363 Spring Mill Road, Indianapolis.  Race headquarters will be in the Nature Center located in the northeast corner of the park. Go to Map
The 5-mile Trail Run/Hike is open to all runners and hikers, ages 10 and older.  Supervision will be provided during race events for children of participating parents (minimum age is 2 - child must be potty trained and registration is required)
Pre-Registration Fees
5-MILE Trail Run/Hike..............................$25 (NO SHIRT INCLUDED)
1-MILE Children's run (ages 6-12)........... $15 (includes short sleeve T-shirt)

TOT TROT...................................................FREE (no registration required)
Raceday Registration for 5-MILE Trail Run/Hike increases to $35 (no shirt)
There will be NO SHIRTS available for purchase on race day, so order yours today!
SHIRT OPTIONS
NOTE - SHIRTS WILL NOT BE AVAILABLE AFTER MARCH 15.
Unisex adult dry blend long-sleeve t-shirt (white)...............$15.00
Additional youth dry blend short-sleeve t-shirt available for purchase (white)...............$12.00

Men & women's short sleeve tech shirt in lime green...............$25.00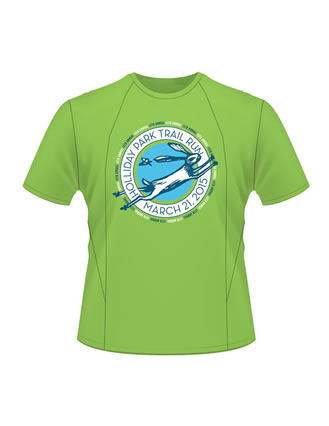 Mail completed forms with entry fee payable by check, money order or credit card to:
Holliday Park Trail Run
6363 Spring Mill Road
Indianapolis, IN  46260
REGISTRATION AND T-SHIRT PICK UP
Pre-race registration and T-shirt pick up will be in the Holliday Park Nature Center on Friday, March 20 from 3:30-5:30 p.m.  Race day registration and packet pick up will be in the Holliday Park Nature Center from 8:00-9:15 a.m.  Limited to 600--must be postmarked by Monday, March 17th.  You must be pre-registered by 9AM Monday, March 16th, -to be guaranteed a shirt and goodie bag - there will be no shirts availabe on race day.
EVENTS AND SCHEDULE--MARCH 21, 20

15
8:00-9:15 a.m......Registration at Holliday Park Nature Center
9:00 a.m..............Child Care begins (reservations required, children must be at least 2 years old)
9:30 a.m..............5-mile Trail Run/Hike (competitive)
9:30 a.m. - 11:30 a.m....Kids Fitness Zone, Massage Tent, and Silent Auction
10:45 a.m............1-mile Children's Trail Run (ages 6-12)
10:55 a.m............Tot Trot (ages 5 and under)
11:15 a.m............Award Ceremony and Prize Drawing
Supervision will be provided during race events for children of participating parents.  (Prior reservations required - limited to the first 50 children that are signed up)

Free Kids Zone
Hoosier Heights Climbing Wall
CrossFit Broadripple (ages 5-9)
Crafts, Game and more!
1. Computerized race results on tuxbro.com
2. Special awards for top male and female runners and age group awards
3. Race participant goodie bag, special prizes & coupons
4. Post race refreshments
5. 'Treasure Hunt' items will be placed along the course for you to pick up and bring back to the finish to redeem for a fun prize!
1.  Entries over the phone will not be accepted.
2.  Only one participant per entry form please.
3.  Entry form may be photocopied.
4.  Waiver must be signed in order to process entry form.
5.  No entry fee refunds or transfers.
6.  No dogs allowed.
The Friends of Holliday Park host this event to benefit Holliday Park. Proceeds support programs and improvements in the park and the Nature Center. Race route and logistics managed by Tuxedo Brothers, Inc.