Tuxedo Brothers Event Management
Entry Information
Do you dare to come and join the spooky fun on October 28 in Downtown Indy? This frightfully fun, 3-mile adventure will entertain you as you walk or run. Dress as your favorite goblin, horror flick star or whatever you like and take part in the costume contest! This is one haunted event you'll talk about for a long time. Come and join the fun! Bring a friend or come alone...just don't miss it -- or you'll be sorry!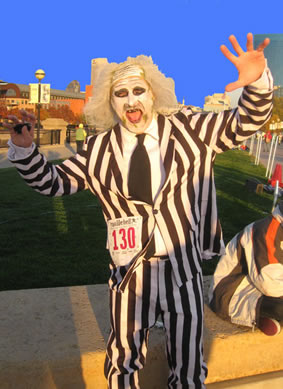 3 mile run and walk - dress up and come have fun!
Join us for a run/walk in the dark for Indy's newest Halloween tradition! This 3 mile run/walk event will take place at White River Park (old Washington Street Bridge) in downtown Indy!
Date:
Friday evening - October 28, 2011 - Start time is 7PM
Packet Pick up and Registration on site will be from 5:30pm to 6:45pm on site (see below)
Location/Course:
Cost:
Pre-registration fee is:
$20.00 per person
Late fee after October 26th and on race day is $25.00
Awards

Special awards categories for best costume - Are you the scariest? Dumbest? Most Original? Sexiest? Best Props? Group?
Top top 5 overall finisher (male and female) will win separate awards.
sorry no age-group awards for this one
Post Race...
Stick around afterwards for snacks and drinks immediately following the event! then.....
Creepy Volunteers Needed
If you would like to help us with this haunted fun… we'd love to have you. Please contact us and let us know…. Call 317-733-3300 or e-mail us at info@tuxbro.com - all volunteers receive a very cool T-shirt, refreshments. Wear a costume – the volunteer with the best costume wins a prize!
Look what people are saying about this event:
"One of the sharpest races ever!" -- Freddie Krueger
"Whoever said this race sucks was wrong!" -- Bela Lugosi
"The shower facilities afterward were awesome." -- Norman Bates
"I got really wrapped up in the race!" -- The Mummy
"George and I will be back for sure" – Sammy Terry
"The people who finished look liked the Living Dead!" -- George Romero
"Something possessed me to do it." -- Carrie (last name withheld)
"I did not look at the course map, so the route was ALIEN to me." -- Sigourney Weaver
"I died at Mile 1 but then came back to life." -- Lazarus
"It was the most hair raising experience ever!" -- Lon Chaney
"There was plenty of food afterward!" -- Hannibal Lecter
"I wanted to run it, but they wouldn't give me #666." - the Devil
"So much fun, I'm bringing the whole family this year" – Herman Munster
"Even I have to say that this event is a little weird" - Gomez Addam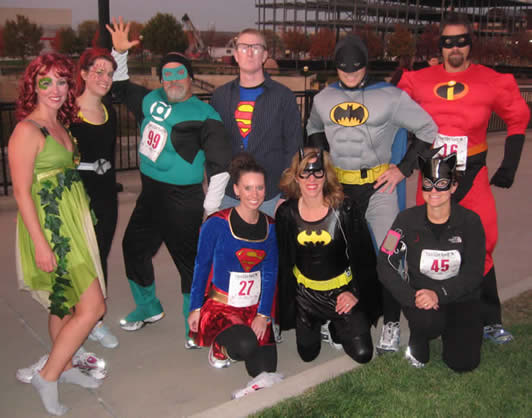 Print an entry form
online entry